About Us
A regional lumber and building materials pro-dealer committed to being a people-focused workplace.
Our Story
Building a Best-In-Class, People-Focused, Regional LBM Pro-Dealer Organization.
We serve local, regional, and national builders and contractors, as well as do-it-yourself ("DIY") customers across several markets throughout Tennessee, Georgia, North Carolina, South Carolina, and Alabama.
We are a backed by Building Industry Partners (BIP) – a leading building industry-focused private equity investment firm. Together with our team members, location leaders, and BIP we are working to build a best-in-class, people-focused regional lumber and building materials pro-dealer.
Centering our Efforts on Customers
Celebrating Local Communities
Our Brands
Southeast Building Supply Interests includes a number of brands each serving their local market. Our team members provide the highest level of service to our customers, and we are proud to have a broad-based employee ownership program to reward them for their efforts.
The SBSI Management Team is continuously considering investments in lumber and building materials providers in the Southeast.  We recognize the advantage of local, entrepreneurial businesses!  When an organization joins SBSI, they can trust their legacy will be respected.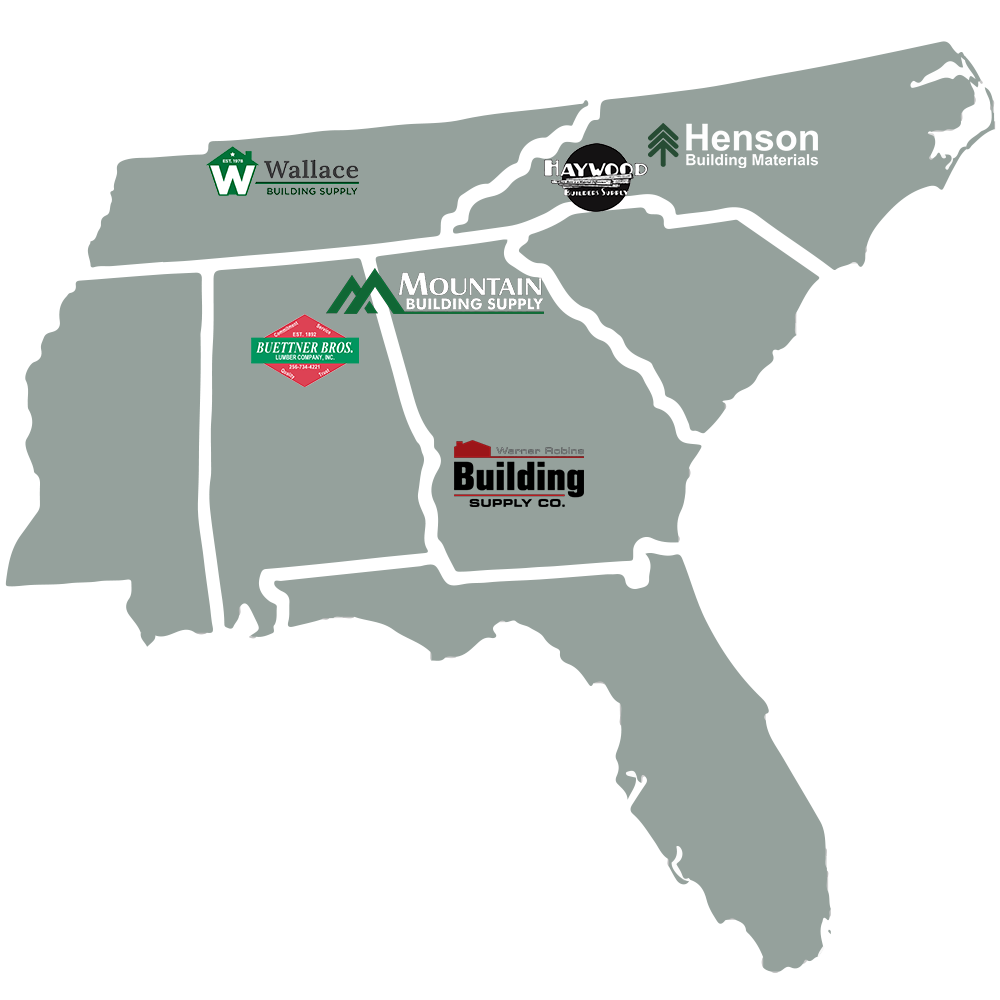 Henson Building Materials was established in 1938. Our locations are in Forest City, Black Mountain, and Linville, serving the Western North Carolina region, and in 2012, we expanded our services to Upstate South Carolina with our newest location in the Tryon/Landrum area. We offer a full line of building materials, tools, and hardware for professional contractors, remodelers, and do-it-yourself homeowners. 
Mountain Building Supply is a full-service building materials dealer and hardware store that has been serving the professional builder, contractor and do-it-yourself homeowners for many years. We are proud to serve Clay County region of North Carolina and Union County area of Georgia.
​
Mountain Building Supply is proud of the longevity and high level of knowledge and expertise of our staff, and with its well-equipped delivery fleet, we can deliver building materials and supplies to our customers' home or job sites
Warner Robins Building Supply has been located in Central Georgia and the Warner Robins Region since 1947 with a store and lumber yard located in Warner Robins, and another store and lumber yard in Perry where we offer a full line of building materials for contractors and do-it-yourselfers. All of our seasoned, friendly, and knowledgeable staff stand ready to assist you in your building and remodeling projects.
Wallace Building Supply was established in 1978 by O'Neal Wallace, a building contractor for 20 years. Now, Wallace Building Supply covers 13 acres and has 121,433 sq ft. of space under roof. Operated by the second generation of the Wallace family, we are very proud to be an active member of the local community in and around Indian Mound TN.
Haywood Builders Supply Company is a full-service, full-line building supply established in 1948. We're successful by being a part of the local community. Our success is the result of our well-trained, helpful, and experienced staff that helps us offer quality products at a fair price. Haywood Builders Supply delivers a complete range of lumber, building materials, and millwork throughout the Western North Carolina mountain area.
Since 1892, Buettner Brothers Lumber Company has become synonymous with quality building materials and home supplies throughout North Alabama and with good reason. They have been driven by a commitment not only to provide quality products and exceptional service, but to do so within an environment of trust, ensuring a lasting relationship with customers.
Interested in Partnering with SBSI?